Design Education: What do you see? What do you think about it? What do you make of it?
SYMPOSIUM
22nd  April, 2015 | 9.45 am - 14.00 pm | Klub Cankarjevega doma | Ljubljana, Slovenia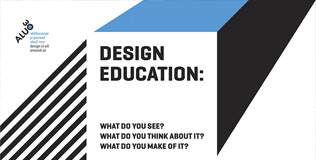 A one day international symposium on (alternative) pedagogical practices in design education, coordinated by Barbara Predan & Petra Černe Oven.
In 2001 Alain Findeli set out three priorities for the design field: 'a discussion on the purpose of design', 'the reform of design education', and, as 'there can be no responsible design without a responsible designer, … the development of an individualistic ethics'.
David Erixon, Tony Fry and Teal Triggs, the guest speakers, will address Findeli's priorities, particularly the reform of design education.