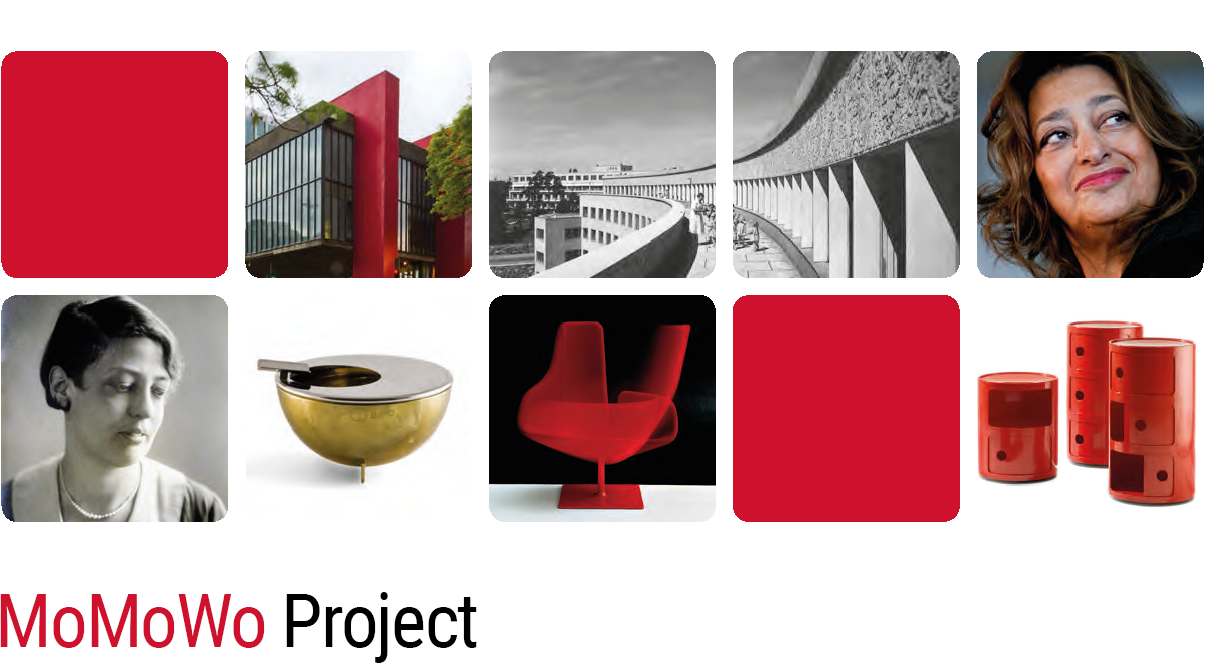 Aim
MoMoWo's general aim is to highlight the diverse contributions of women in design professions. By revealing these accomplishments, MoMoWo aims to promote cultural and professional equality and strive toward a gender balanced society.
MoMoWo focuses on contemporary works by European women in the fields of architecture, civil engineering, interior design, landscape design, and urban planning. These fields were, and in some case, are currently perceived as masculine dominated professions. This project tackles this attitude, by exposing notable and important works by female designers both past and present.
By highlighting the value that works by women have brought to the world of design, MoMoWo hopes to empower and strengthen future generations of creative women.
Object
MoMoWo hopes to reach innovative practices, design firms, networks, and fellow designers in order to influence the integration of more women designers into this masculine dominated professional sphere.
The world of construction and design is historically a man's prerogative. The history of these professions is a clear and crucial representation of a working environment in which the female gender has been underrepresented and found difficulty establishing herself.
MoMoWo reflects on the following question:
What can be learned from European pioneer women so as to improve women current professional achievements in architecture and design?
Starting Point
As the title "Women's creativity since the Modern Movement" suggests, the project starting point is the Modern Movement, seen not only as a moment of great cultural clamor, but also as a political and social breaking point. The Modern Movement also represents the first historical landmark in women's liberation.
The title clearly states one of the project objectives: creating a bridge connecting women's past, present and future generations.
MoMoWo focuses on women's developments in interior design, industrial design, architecture, urban planning, landscape architecture, architectural photography, and civil engineering in Europe since the 1920's. The project predicates that the history of women's professional creativity and the cultural heritage produced by their works is not given appropriate recognition. This lack of appreciation for historical female designers permeates not only the general public, but also scholars and professionals.
Arrival Point
Far from being a mere historical survey, MoMoWo focuses on understanding why women still find it difficult to find equality in the professional design world.
Through its activities programme, MoMoWo aspires to build an international heritage and network of know-how and skills in order to inspire women into new vocations.
Presenting women's creative designs to a broad audience will provide wider professional recognition to present and future generations.  This will increase women's productivity and professional achievements.
Objectives and Priorities
Objective 1
To reinforce the cultural and creative sectors ability to work together, and focus on underrepresented groups of women in the following fields: Culture, Architecture, and Design (decorative arts, interior, industrial, and graphic designs).
Objective 2
Promote mobility of women architects and designers and related scholars, curators, historians, students, restorers, and those in the tourist profession. Stimulating the circulation of their works in the European Union and beyond, with the goal of increasing awareness, knowledge, and interest in European cultural heritage created by women.
Priorities
Supporting scholars, lecturers, architects and designers both students and professionals to cooperate internationally. Enabling women's carriers and activities to reach the European Union and beyond, through a long-term vision of creating a European platform, of and for creative women.
Supporting International Cultural activities.
Encouraging audience development through new and innovative digital technologies. Improving public experiences and deepening relationships between current and future audiences, creating a bridge between generations. Stimulating interest and creating access to the European cultural heritage and creative legacy, created by women in the fields of architecture and design.
Sustainability
MoMoWo has been developed with a dynamic perspective. The activities are part of an ongoing process, which proceeds despite the European financing deadline. This project focuses on the improvement of individual expertise, encouraging networking, and increasing audience diversification. In this way the project envisions its future sustainability.
MoMoWo is intended to continue as an European platform, designed to cast women architects and designers on the professional environment.
The sustainability of MoMoWo can be supported also by :
The women professionals involved and represented in: Database, Workshops and public interviews, Photographic Reportage, Open-Day, Travelling Exhibition, Final Symposium, Cultural-touristic itineraries;
The museums, private and public archives, research centres, and design companies who wish to provide their data and materials to implement project activities (Database, Travelling Exhibition, Publications, …);
The universities involved in the International Design Competition, in the Final Symposium and in Workshops;
The tourism organizations and local authorities accepting to promote the Cultural-touristic itineraries Guide Book;
The institutions, design companies, professional associations, women associations or creative players involved or represented in the website agenda, Public interviews, Photographic Reportages, Guided
Tours, Final Symposium.
The Database will be carried out by the project partners (universities and research centers) as part of their regular research activity.
Acknowledgements
Maria Bostenaru Dan
Razvan Lacrarui
Mihaela Lacrarui
Elena-Codina Dusoiu