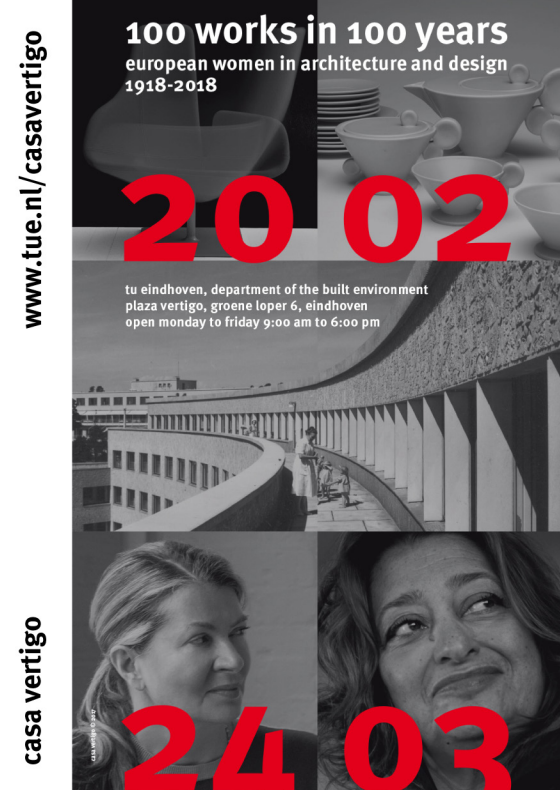 Date:
February 20th - March 24th
Place:
Eindhoven University of Technology, the Netherlands.
This exhibition is made possible by the support of Casa Vertigo
100 works in 100 years: european women in architecture and design
Historically, the contributions of women architects and designers have been ignored or overlooked. Women in Europe have reacted with inventiveness to common practices in architecture and design that prevent and constrain innovation. This exhibition displays works created by female architects and designers, aiming to make them visible.
"100 works in 100 years" brings together a selection of 100 works, including the most significant and representative examples of European architecture and design created by -too women from the end of the First World War to the present day.
The number of works is symbolic, as "one hundred" could also mean "countless" as in the Latin word centum.
The first chapter of the exhibition consists of a timeline that presents 100 years of accomplishments by women.
The second chapter exhibits the winning photographic reports of the MoMoWo International Photo Competition. It showcases the female designers' own homes; highlighting the connection between domestic activities and professional work.
Because of the golden jubilee of the Department of the Built Environment at Eindhoven University of Technology, CASA Vertigo adds a third chapter to the exhibition. Staging the three women professors of architectural design during its existence in the past 50 years: Jeanne Dekkers, Hana Cisar and Juliette Bekkering.
A production by MoMoWo, graphically reedited by CASA Vertigo.
Women's creativity since the Modern Movement — MoMoWo — is a large-scale cooperation project co-funded by the European Union Creative Culture Programme. MoMoWo approaches women's achievements in the fields of design and architecture understanding this topic as a key contemporary issue from a cultural, social and economic perspective. MoMoWo's collection is a slice of history that goes beyond temporary values and becomes a crossroad not only for artists and the audience but also for authors and future creators.