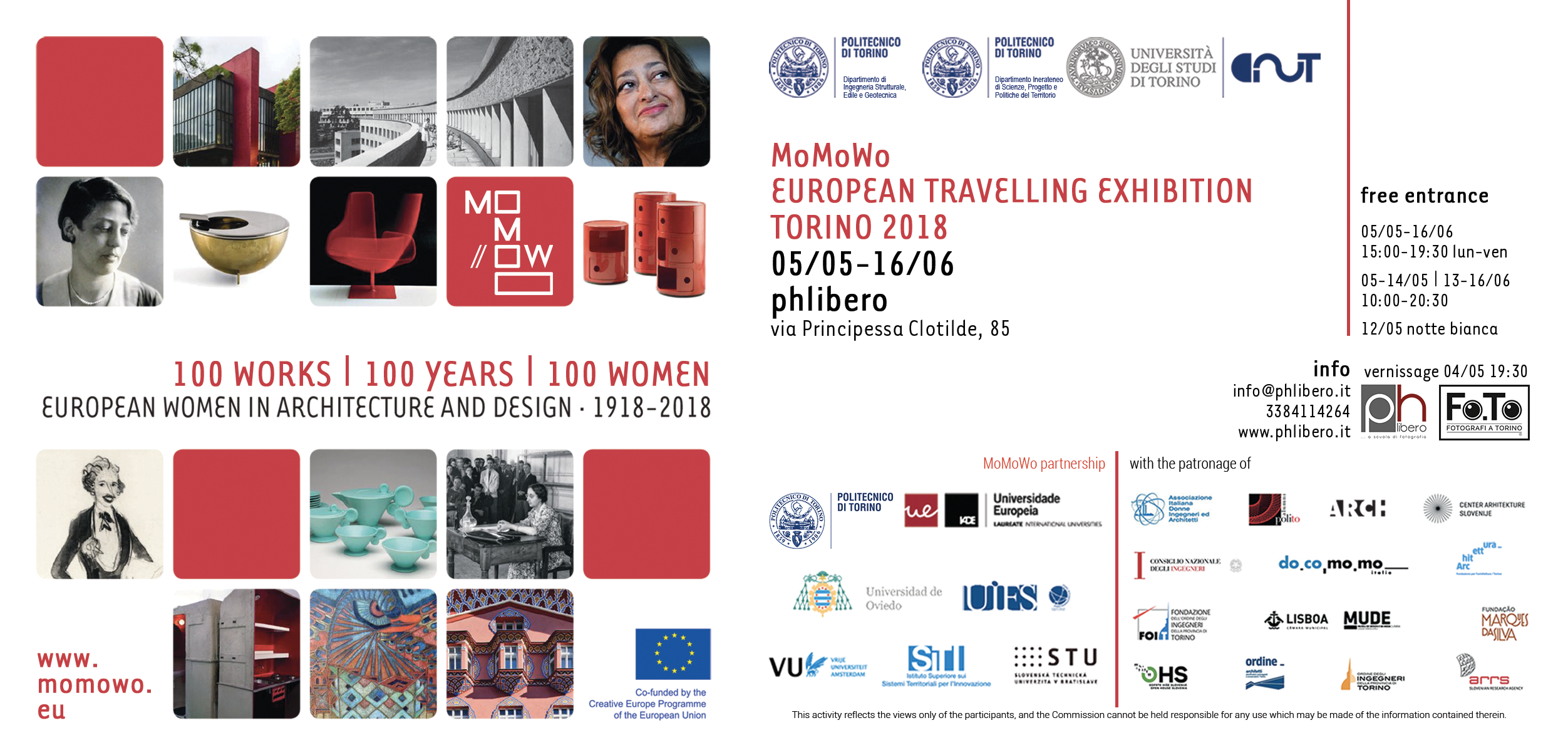 MoMoWo Travelling Exhibition Turin – Vernissage, 4 May 2018
Date:
May 5th to June 16th
Place:
Phlibero, via Principessa Clotilde, 85
Time:
05/05 - 16/06: 15:00 to 19:30 lun - ven
05-14/05 | 13-16/06: 10h00 to 20:30
12/05: notte bianca
04/05: vernissage
09/06 - 16/06: 31º Salone Internazionale del Libro di Torino, Lingotto Fiere, Stand MoMoWo
09/06 - 16/06: Generatrici di Paesaggio | Generators of Landscape - Six Historic and Six Contemporary Female Landscape Architects. Exhibition by La Voce delle Piante.
La MoMoWo Travelling Exibition, 100 WORKS | 100 YEARS | 100 WOMEN inaugura a Torino presso phlibero, Venerdì 4 Maggio alle 19,30 e resterà aperta dal 5 Maggio al 16 Giugno con ingresso gratuito. La mostra ha attraversato l'Europa facendo tappa: nel 2016 a Oviedo, Lisbona e Grenoble; nel 2017 a Eindhoven, Delft, Lubiana e Seul e nel 2018 a Belgrado e Bratislava.
Il pubblico potrà vedere riunita la versione completa della mostra ovvero: la sezione interattiva European Women in Architecture and Design · 1918-2018, nella quale viene narrato un secolo di storia dell'architettura e del design attraverso cento progetti e oggetti iconici che disvelano altrettante tappe della creatività femminile; scoprire originali percorsi di architettura al femminile Women. Architecture & Design Itineraries across Europe; comprendere - attraverso la lettura della ChronoMoMoWo - le interconnessioni fra le conquiste delle donne nei diversi campi della costruzione e in quelli delle scienze, dell'economia, della politica, ecc.; esplorare come le donne progettano la propria casa per se stesse, libere dal condizionamento della committenza e attente solo ai propri desideri e alle esigenze familiari, nella mostra fotografica Exploring Women Architect's Own Home che presenta i progetti vincitori del Concorso internazionale di fotografia lanciato da MoMoWo; ascoltare The MoMoWo Sound, musica dedicata al progetto dal compositore Giulio Castagnoli e anche giocare con la MoMoWo Treasure Hunt.
Per l'occasione MoMoWo sarà presente sia al Festival della Fotografia FO.TO. - alla sua prima edizione torinese - sia al 31° Salone Internazionale del Libro di Torino (10-14 Maggio 2018). Nello stand di MoMoWo, sarà possibile consultare le pubblicazioni del progetto, tutte scaricabili gratuitamente dal sito http://www.momowo.eu/publications, nella cornice dell'allestimento presentato al Congresso Mondiale degli Architetti UIA Seoul 2017.
Affiancherà la mostra il MoMoWo Symposium 2018, Convegno internazionale che si terrà al Campus lingotto del Politecnico di Torino dal 13 al 16 Giugno, registrazione gratuita da http://www.momowo.eu/symposium/.
MoMoWo: Women's Creativity since the Modern Movement è un progetto di cooperazione culturale a larga scala, cofinanziato dal Programma Cultura Creativa dell'Unione Europea, capofilato Politecnico di Torino e coordinato dalle curatrici della mostra Emilia Garda (Polito,DISEG) e Caterina Franchini (Polito, DIST).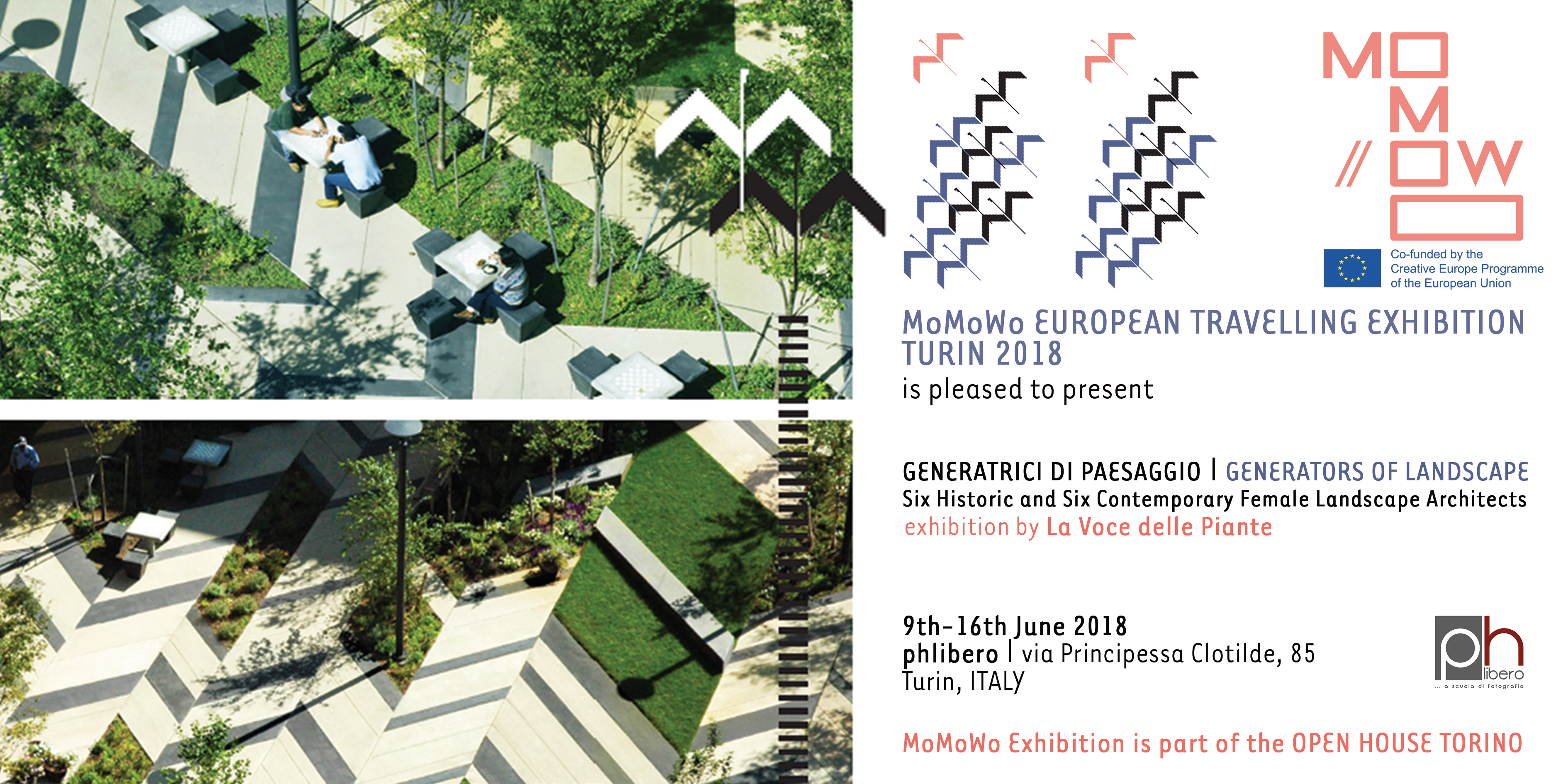 Vernissage - MoMoWo Travelling Exhibition in Turin
MoMoWo at 31º Salone Internazionale del Libro di Torino