Helena Vurnik Exhibition
"Helena Vurnik is one of those artists in Slovenian artistic tradition whose existence has been revived by the interest in women's studies. However, her life and work have been poorly researched. She has been known as a creative partner in the projects of architect Ivan Vurnik, her husband. In spite of frequent emphases on equal participation she has remained in his shadow. This first exhibition dedicated to her work ever has been organised by the National Gallery of Slovenia as the keeper of her artistic bequest in cooperation with the Centre of Slovenian Architecture.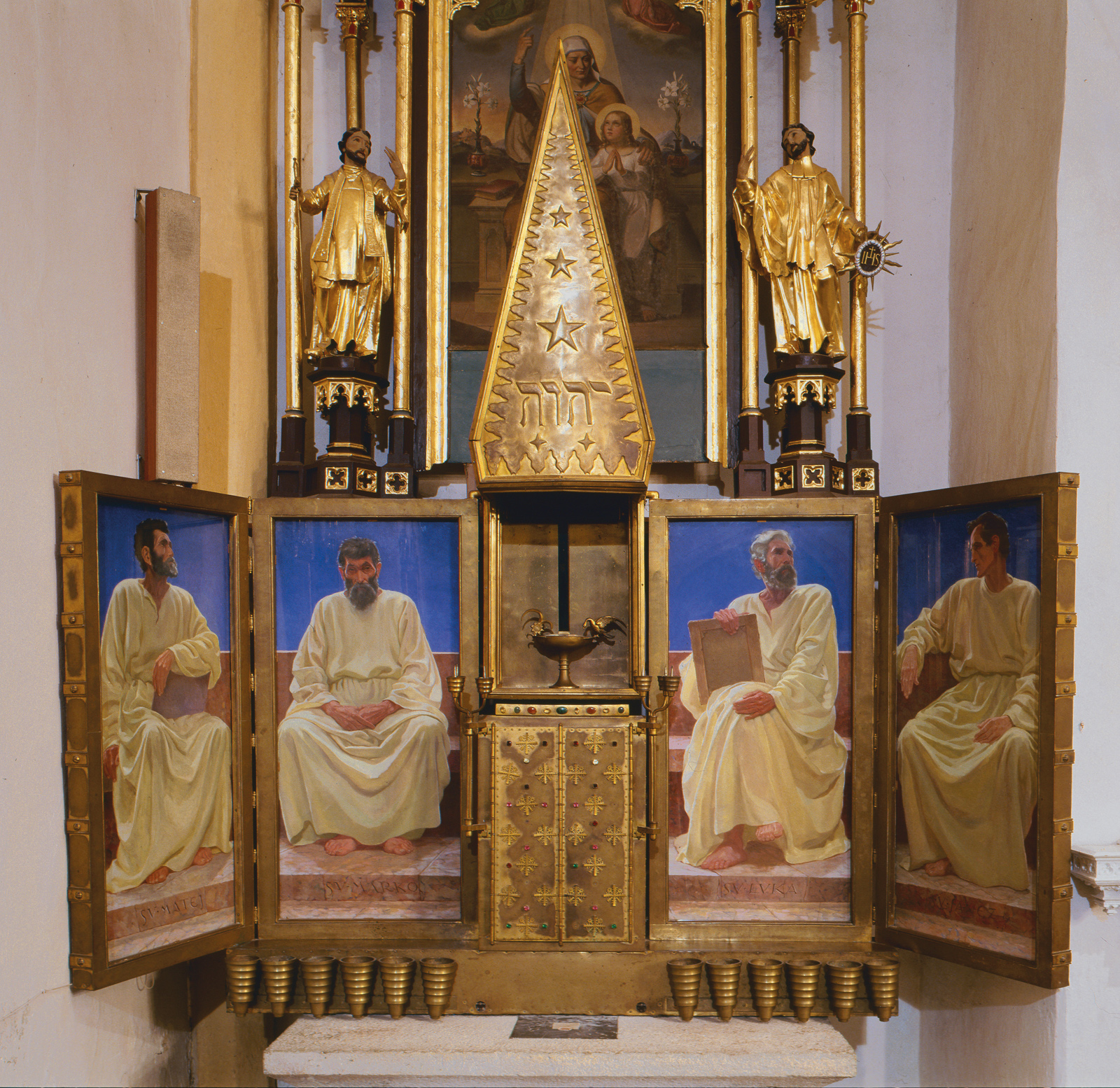 Tabernakelj za oltar sv. Petra, 193
les, medenina, steklo, olje, platno
župnijska cerkev sv. Petra, Radovljica
(foto Miran Kambič)
Helena Kottler was born in Vienna where she pursued artistic career in spite of her family. Taking freehand drawing classes at the Graphisches Lehr- und Versuch Anstaltbetween 1903 and 1909, she enrolled at the Academy for Women and Girls in 1907. Most of the institutions of secondary higher education in the Empire did not admit women in their regular curricula, but offered parallel programs "adjusted to women's needs and abilities" instead. At the end of her studies in 1910 she won a state scholarship which allowed her to spend five months in the vicinity of Modena, Italy. After returning to Vienna she found employment as an illustrator, rented a studio and in November 1913 married Ivan Vurnik.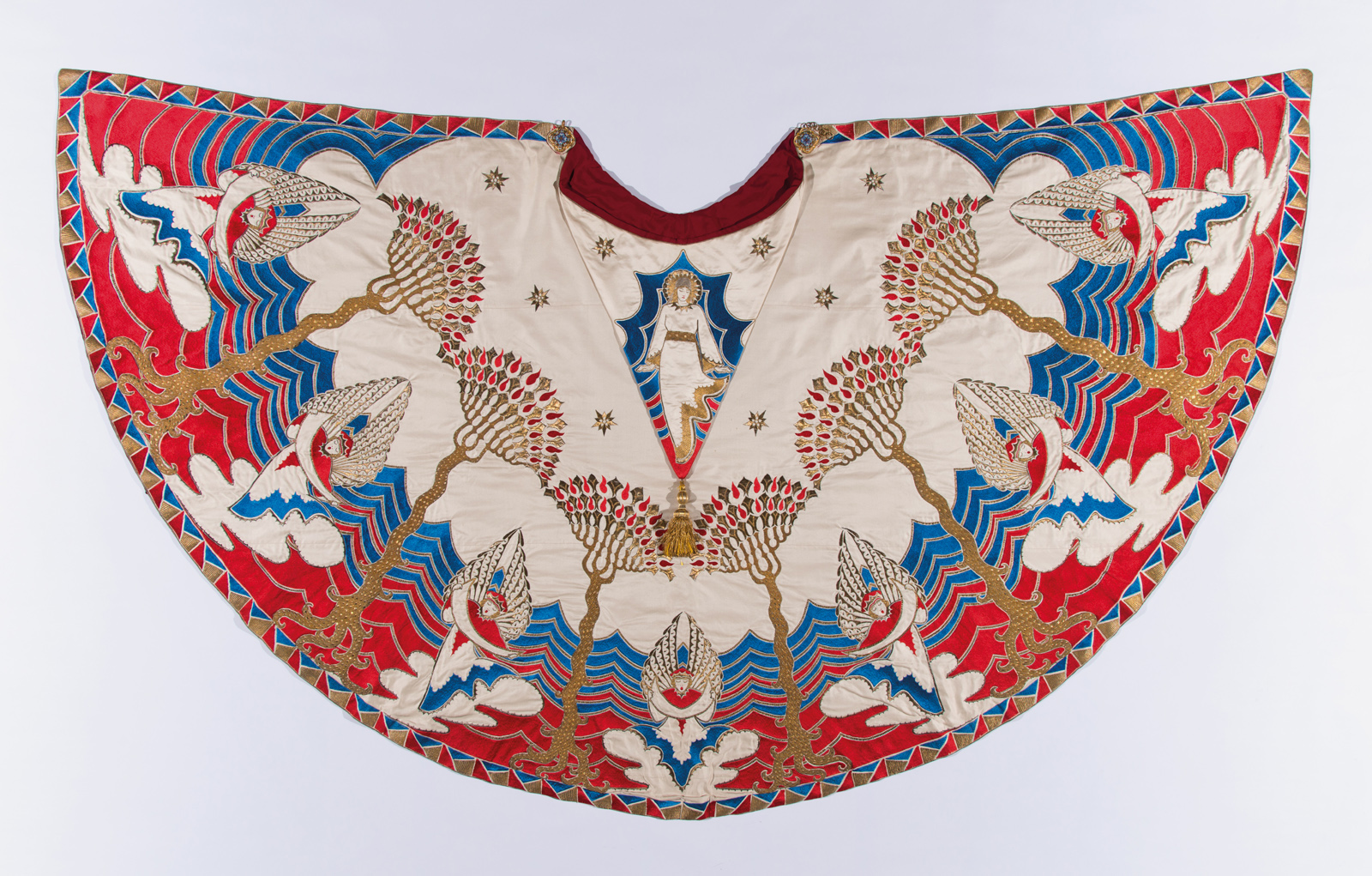 Pluviale škofa Antona Bonaventure Jegliča, 1923
svila, zlata nit
Nadškofijski ordinariat, Ljubljana
A year later Ivan Vurnik decided to return to his native province of Carniola. The newly-weds were occupied by refurbishment of the private chapel in the diocesan palace of Trieste commissioned by the bishop there, Andrej Karlin. Helena, without experience in religious monumental art, was supposed to paint several large canvases, but managed to execute only The Annunciation. The rest are known only as designs in tempera executed with great decorative efficiency. Their adviser was Msgr. France Kimovec who remained their mediator of church commissions all their lives.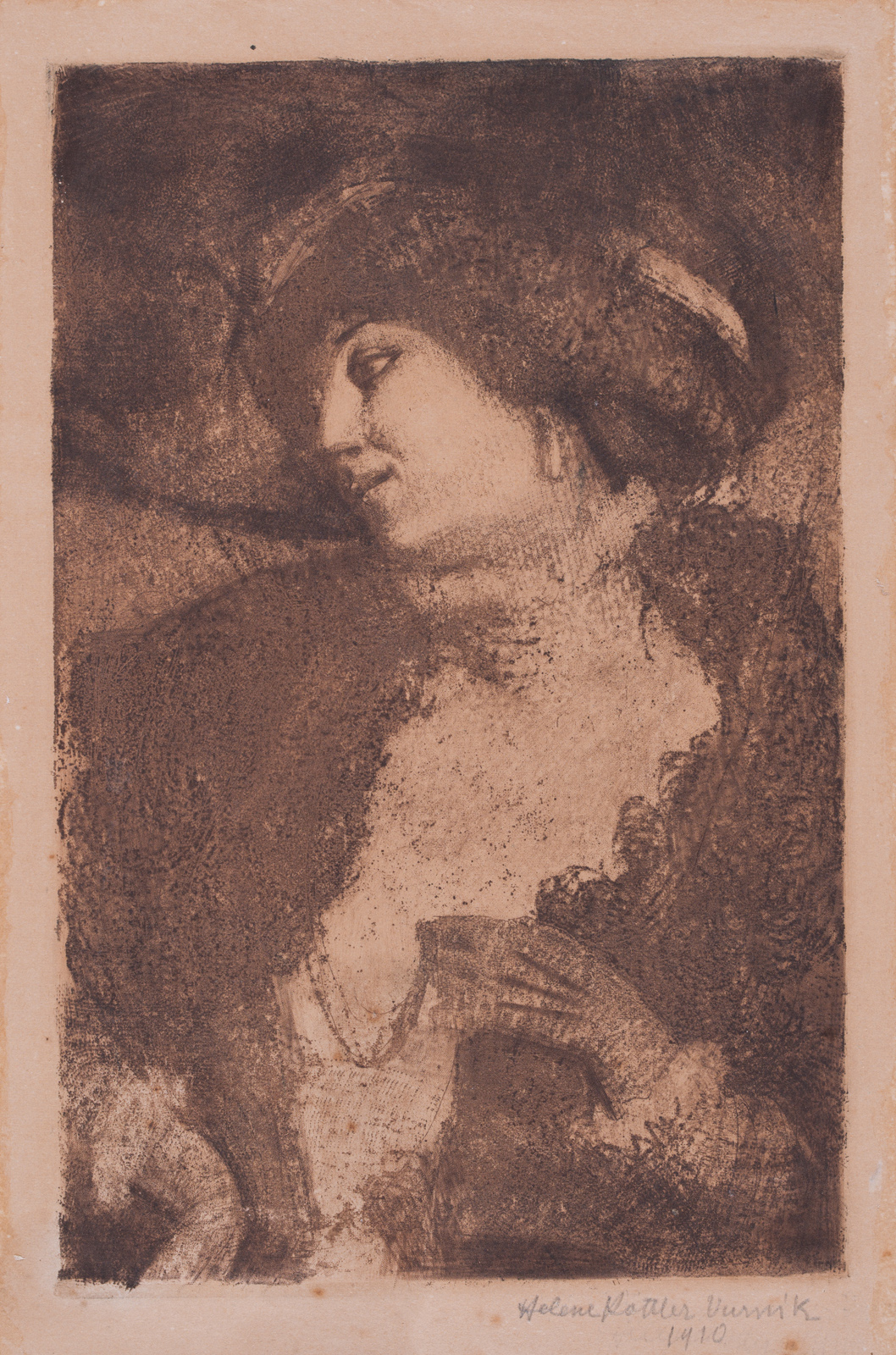 Parižanka, 1910
jedkanica, akvatinta, papir
NG G 8841
Helena never succeeded in building her own social network in Carniola. She depended entirely on her husband's communication with the world and experienced her artmaking as an endless toil on commission, pressing deadlines and repetitive projects. Nevertheless, she has produced a number of notable aesthetic achievements in graphic design, architectural decoration and liturgical equipment, embroidered textiles in particular, that have enriched Slovenian artistic production between the two World Wars. Her work by the side of Ivan Vurnik was dedicated to the visualisation of national symbolism in the national emancipation movement under the tutelage of the Catholic Church. The Golden Book of the City of Ljubljana, liturgical vestments for Bishop Anton Bonaventura Jeglič, decorative painting in the Cooperative Economic Bank and book design for the Mohorjeva družba publishing are outstanding projects which originated in the Annunciation of Trieste, where the Virgin wears a headdress in the colours of the Slovenian flag.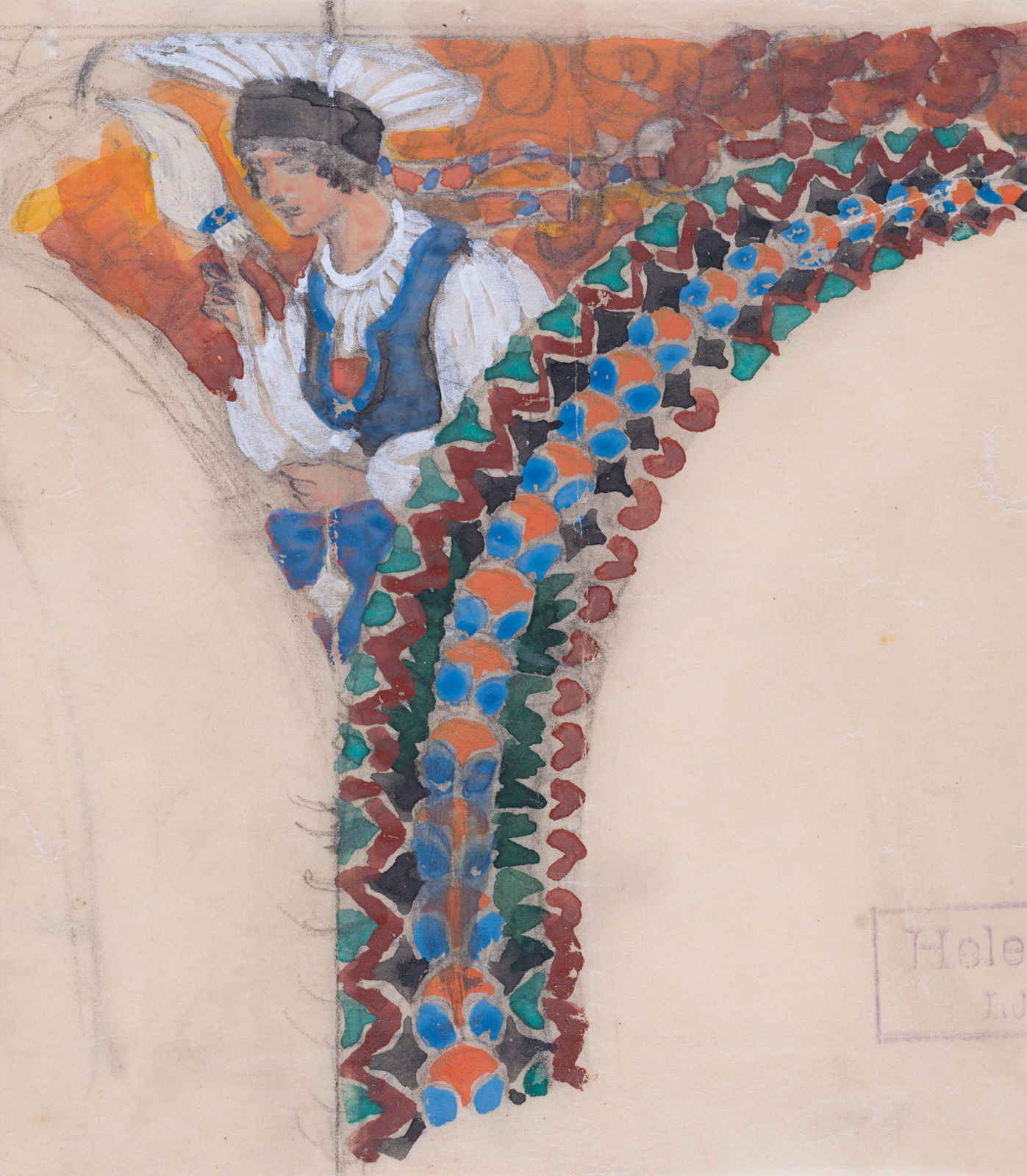 Študija za poslikavo Zadružne gospodarske banke, 1922
grafit, akvarel, pavspapir
NG G 8824
After the tragedy in which their nineteen years old son Niko was shot dead by the Italian occupation forces in 1942, Helena lost faith in art and creativity. Commissions dropped close to none and Ivan was gradually removed from the teaching position at the School of Architecture. In 1956 they moved to Ivan's home in Radovljica where Helena died in 1962 after a prolonged illness.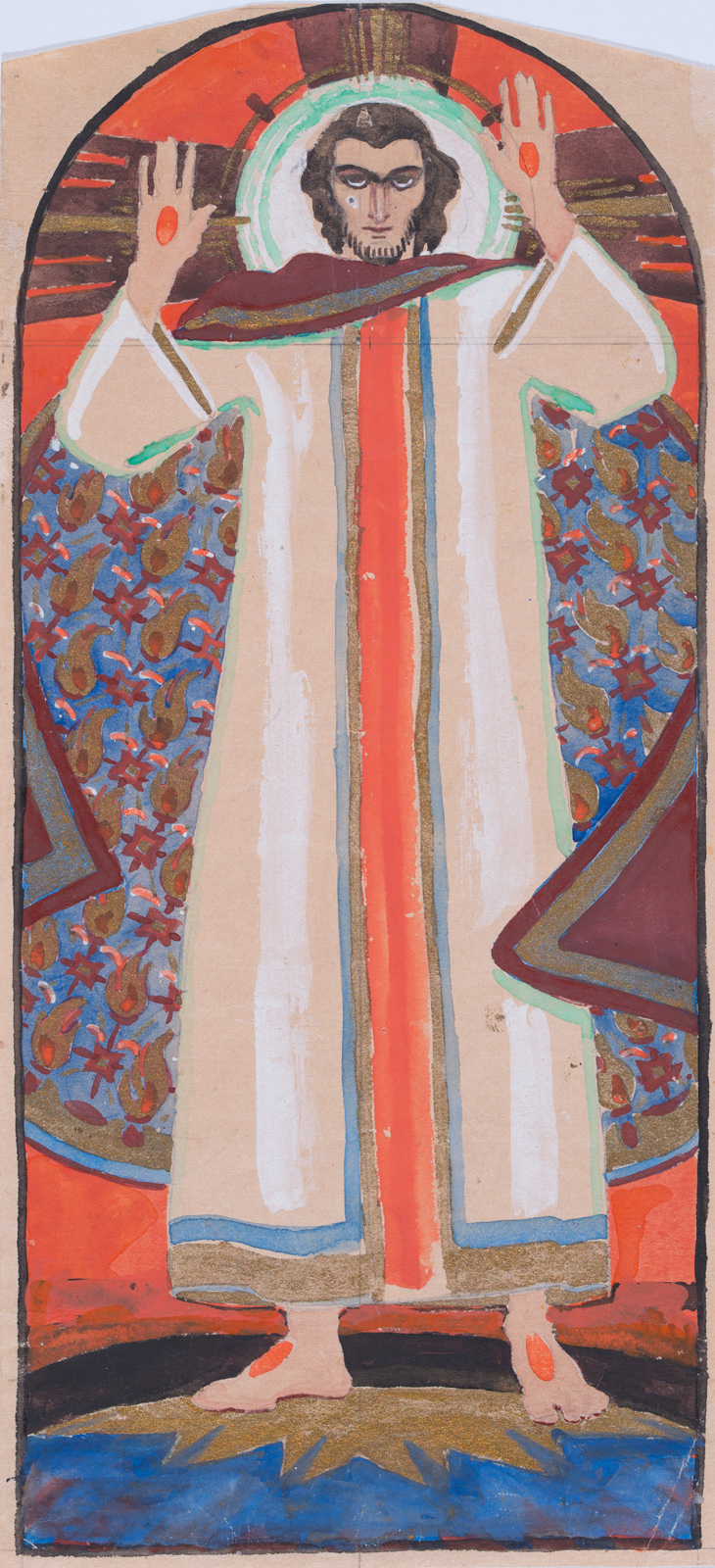 Študija za mozaik Kristusa, Šempeterska cerkev, Ljubljana, 1938
tempera, ovojni papir
NG G 8805
Through the notes in her diaries and family tradition we have attempted to identify Helena's more intimate works, which testify to her isolation, loneliness, withered self-confidence, and personal traumas. This mood informed her execution of commissions, while more personal, intimate works remained more or less unfinished. She used as models almost exclusively the members of the family, whom she frequently portrayed and in a certain jovial moment managed to turn into a series of scintillating caricatures. She and her husband revived religious art particularly in the design of liturgical accessories. However, among a host of preparatory drawings and watercolours in Helena's bequest in the National Gallery, we can find a few intimate works that match her sorrowful diary entries. They testify to the tragic fate of a metropolitan artist who sacrificed her creativity to the interests of the family and family business, which had seen little change from the nineteenth century artisanal workshop.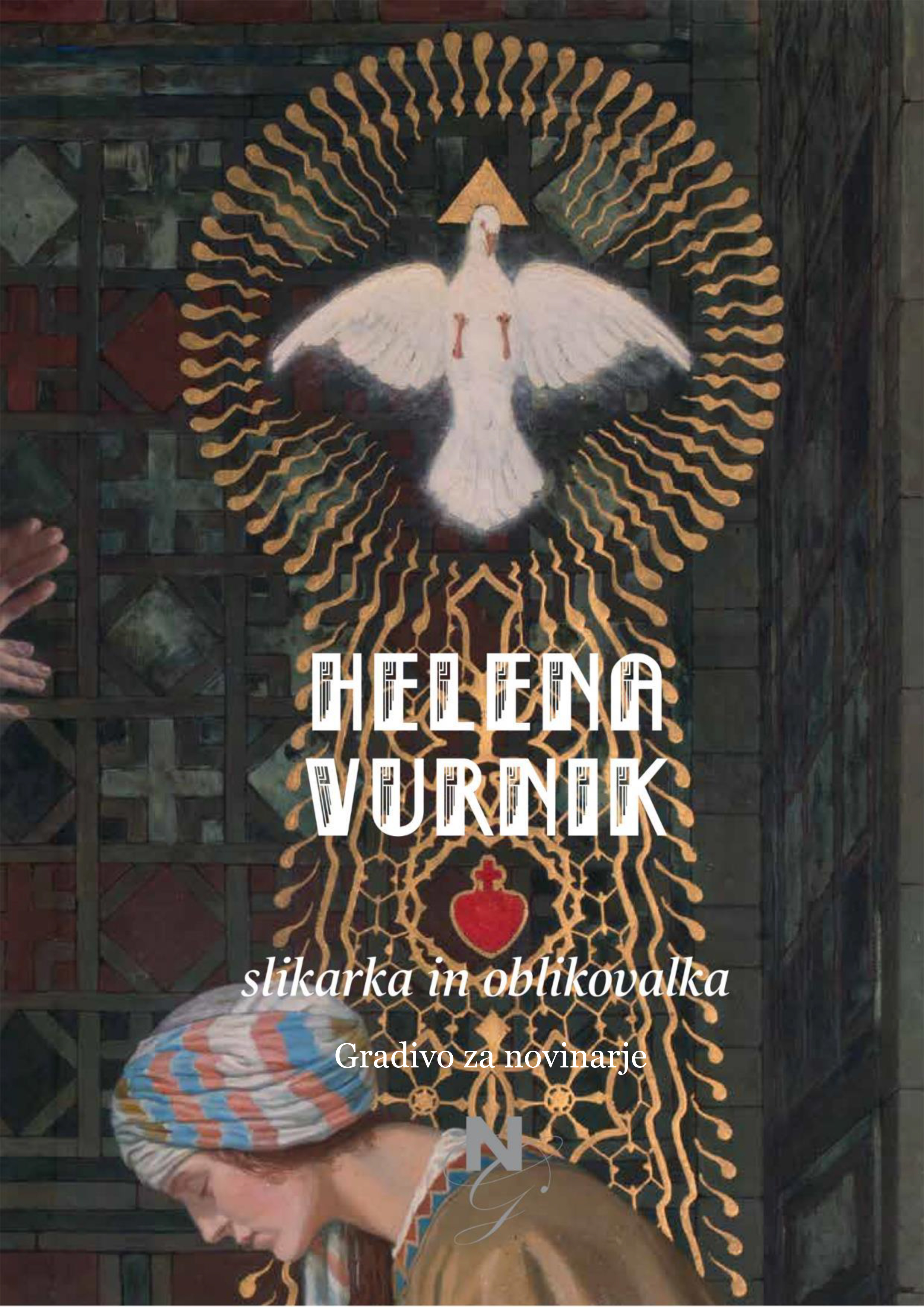 Marijino oznanjenje, 1915
olje, platno
Škofijska palača Trst
The exhibition was organized by National Gallery of Slovenia and Centre of Slovenian Architecture."

Text taken from : http://www.ng-slo.si/en/exhibitions-and-projects/exibition-or-project/helena-vurnik?id=4248