We Can't Change History with Local Stories. Caterina Franchini Interview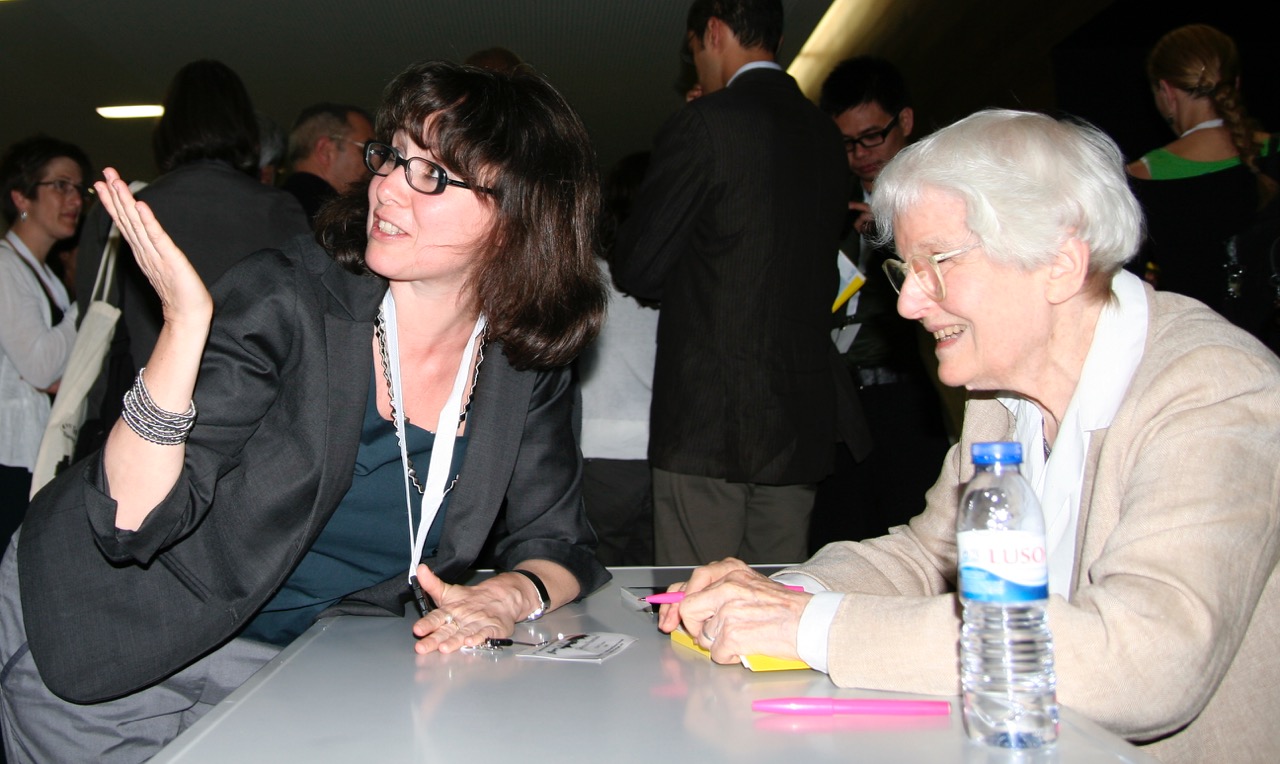 Caterina Franchini talking with Denise Scott Brown at the 1st International Meeting of the European Architectural History Network – EAHN, Guimarães, Portugal, 2010, photo: Caterina Franchini
Text taken from WPSPrague
During my recent trip to Ljubljana, I met Caterina Franchini, architecture historian from Polytechnic University of Turin. Caterina is also the catalyst behind the first international project that consolidates profiles of forgotten women in architecture, landscape architecture, engineering, design and urban development. With this narrative, I knew we had to talk…
Interview by: Milota Sidorova, edits by Michael Higgs
What is MoMoWo about?
MoMoWo - Women's creativity since the Modern Movement - is the first cultural-cooperation European project about women's achievements and contributions to design and construction-related professions – architecture, civil engineering, design (industrial, interior, product design), restoration, landscape architecture and urban planning. We investigate the period between 1918-2018. Since the end of the First World War, women pioneers started to be active in their professional fields in most European countries and new generations of women enrolled in universities and polytechnics to become architects or engineers.
MoMoWo is the first project co-funded by the European Union's Creative Europe programme that considers gender aspects in technical disciplines. It is a multifaceted cultural project encompassing many different activities – international conferences, workshops, exhibitions, open days, publications, databases and public presentations, which are entirely documented on our website. The goal of MoMoWo is to create an intergenerational bridge looking for women pioneers all over Europe in this period. This project connects research, communication, dissemination and audience monitoring.
Why women in the history of technical disciplines?
Many years of our research and teaching experiences have shown us that women are hidden from the mainstream history of architecture, construction, design in addition to the other fields that I have mentioned.
What should happen so the history of architecture can be taught differently?
There are seven co-organisers in MoMoWo project. Five of them are universities and this way we immediately use the knowledge that we have generated to include gender issues in the curriculums of our subjects. We transfer what we have discovered to our students. But mainly through the project, we generate international networks of scholars, cultural workers and organisations, thus sharing and fostering this knowledge further. In 2015, we started with an international series of history workshops focused on three historical periods. To my delight, I have seen many young researchers, PhD candidates joining us with their case studies. The last one was in Oviedo and involves the time period of 1968 to 1989.
"Before we enter mainstream sources, histories, even Wikipedia, we as women have to be aware of our heritage and achievements on an international scale. We can't focus only on the local cases."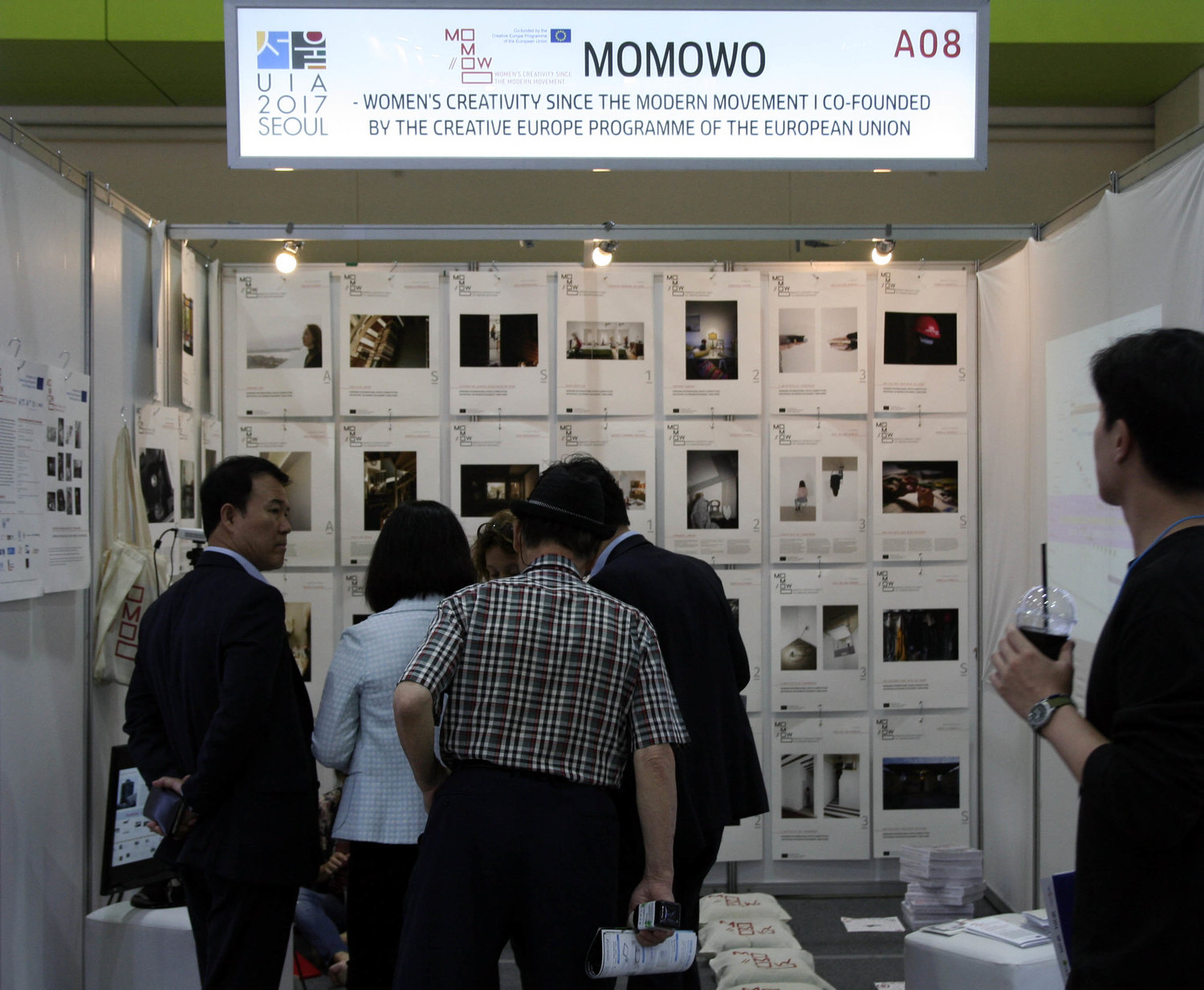 MoMoWo at the UIA Seoul Word Architect Congress 2017 Coex, Seoul (South Korea), 7-10 September 2017, photo: Caterina Franchini.
I myself have joined one of these workshops. I'm not surprised to see mainly women researchers.
This is a very revealing point. To create the MoMoWo partnership, I launched an open call, and all the applications came from women but finally, we got one male participant in the project and our research teams are mixed. In general, it seems that men consider the topic of women in architecture as a minor matter. It is challenging to reach out to a male audience. As a researcher, if you survey literature, you find that the majority of significant studies and books on female contributions are written by women.
Tanja Poppelreuter said she would not want to see two histories – the history of male and history of female deeds. How do you think these two can be united together?
I wholeheartedly agree with Tanja. Before we enter mainstream sources, histories, even Wikipedia, we as women have to be aware of our heritage and achievements on an international scale. We can't focus only on the local cases. The research, the information pack, has to be sound and has to cover at least one century in addition to being backed by a critical mass of scholars and practitioners, both men and women.
Nothing happens without reason. What was your catalyst to start the project like this?
I am a PhD architectural historian, having trained as an architect specialised in cultural heritage. My research focuses on the history of contemporary architecture and design. In June 2010, I participated at the first international meeting of the European Architectural History Network (EAHN) in Guimarães (Portugal). I lectured in the gender section attended by Denise Scott Brown. She was so enthusiastic and considered this topic fundamental. It resonated with me.
"In the United States, due to Susana Torre, women were already visible through the studies at the end of 1970s. I asked myself 'what happened in Europe?'"
This was much earlier than us.
Yes, indeed. Later I had the idea to design a European project, and I have found Emilia Garda (Polytechnic of Turin) to be the project leader. I developed the MoMoWo partnership through my personal contacts and we have succeeded in doing it.
Why are the stories of the past relevant for women now?
It is crucial, not only for women but also for men. If we want to improve our professional conditions, we must show the history, achievements and we have to be proud of our accomplishments. We also must know of the personal histories and barriers that women pioneers faced to dismantle new and existing gender barriers that affect our professional activity. They have done it so that we can do it too.
Thank you!